4.2.
Site Info Tab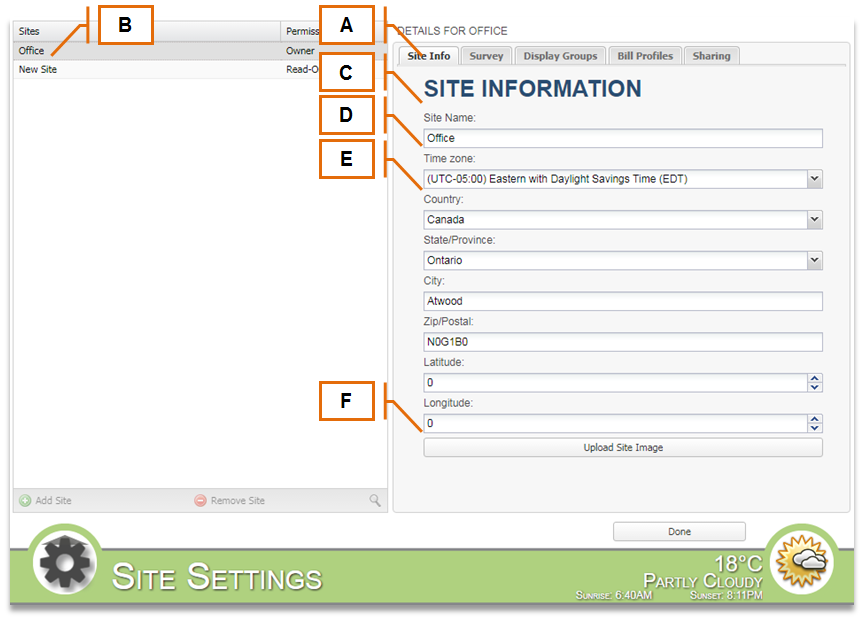 Field
How It's Used
A
Site Info Tab
Click on the Site Info tab to access and edit basic Site information.
B
Sites List
Lists all Sites associated with your MyEyedro account; shared Sites are "Read-Only", while Sites belonging to the user will have "Owner" permissions.
C
Site Name
Useful for multi-Site sharing.
D
Time Zone
Used to ensure all readings are correctly converted from UTC time to a user's local time zone.
E
Location Information
Where optional location information such as country, state/province, city, zip/postal code, and longitude/latitude is stored. All location information is not currently required.

NOTE: If a valid Zip or Postal code is specified here, the weather widget (in the right bottom corner) can be enabled under User Settings.

F
Upload Site Image
Images of Sites (must be 400×400 pixels) can be uploaded for reference and to more easily identify multiple Sites.
1
of
1
users found this section helpful