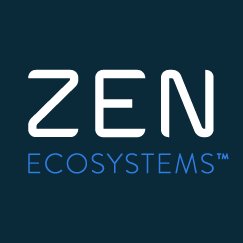 Zen Ecosystems and Eyedro Partner on Technology Integration to Optimize Business Energy Use
Partnership to provide comprehensive smart energy management and monitoring capabilities
April 12, 2018 08:00 AM Eastern Daylight Time
NEWPORT BEACH, Calif.–(BUSINESS WIRE)–Zen Ecosystems and Eyedro Green Solutions Inc. today announced a partnership to integrate Eyedro's near real-time electricity monitoring equipment and software with Zen Ecosystems' intelligent commercial energy management platform, Zen HQ. This integration will offer current and future Zen HQ customers access to more detailed energy-related data for optimizing electricity use.
Eyedro's easy-to-install hardware and MyEyedro cloud software package enables Zen HQ to collect and transmit data at the individual load level in five-minute intervals. Zen HQ will analyze the usage across building operations and deliver insights through comprehensive energy reports for building managers to enhance lighting, ventilation, cooling and other building operations. Eyedro is currently installed in more than 130 countries.
"Energy management is a complex arena, with countless opportunities for greater efficiency, but transparency is key," said Zen Ecosystems CEO James McPhail. "Eyedro's integration allows customers who are already saving with Zen HQ to monitor more and use actionable insights to make changes that improve their energy use, and ultimately, their bottom line."
The first Zen Ecosystems and Eyedro-powered systems will be installed in multiple restaurant franchise locations as a part of a pilot program.
"Restaurant franchises have some of the slimmest margins in the business," said Eyedro CEO Trevor Orton. "Diving deeper into new data streams with the Zen HQ and Eyedro integration will help businesses of all sizes identify energy drains. As we offer increasingly precise energy use data, we identify new opportunities to achieve electricity savings and support businesses' bottom lines."
Eyedro solutions will be offered in tiered packages and price points to all Zen HQ customers over the next six months, and a simple user interface will be added prior to the full roll-out. The integration is estimated to provide 10-30% in savings for sustainably-minded businesses. For more on the collaboration visit: www.zenecosystems.com
About Zen Ecosystems
Zen Ecosystems provides intelligent energy management solutions to businesses and consumers. Zen HQ is an energy management system designed for the unique needs of businesses and utilities to provide insights and control over multisite commercial energy usage while delivering the fastest payback in the market. The Zen Thermostat is a beautiful, simple connected device for home and business that also enables multi system operators to enhance the customer experience. Fast Company has recognized Zen Ecosystems as one of its "Top 10 Most Innovative Companies in Energy" for 2018. Learn more at http://zenecosystems.com/