Eyedro Home Electricity Monitors
Why wait for your utility bill to arrive to find out how much you've consumed – with Eyedro's energy monitors you can see, in real-time, your home's electricity usage. Eyedro provides timely and actionable insights that allow you to stay on top of your electricity spend, making your electricity usage easy to understand. Eyedro home energy monitors provide an easy and affordable way for homeowners to monitor and track energy usage in the home, taking the surprise out of your utility bill.
Eyedro Home Products Comparison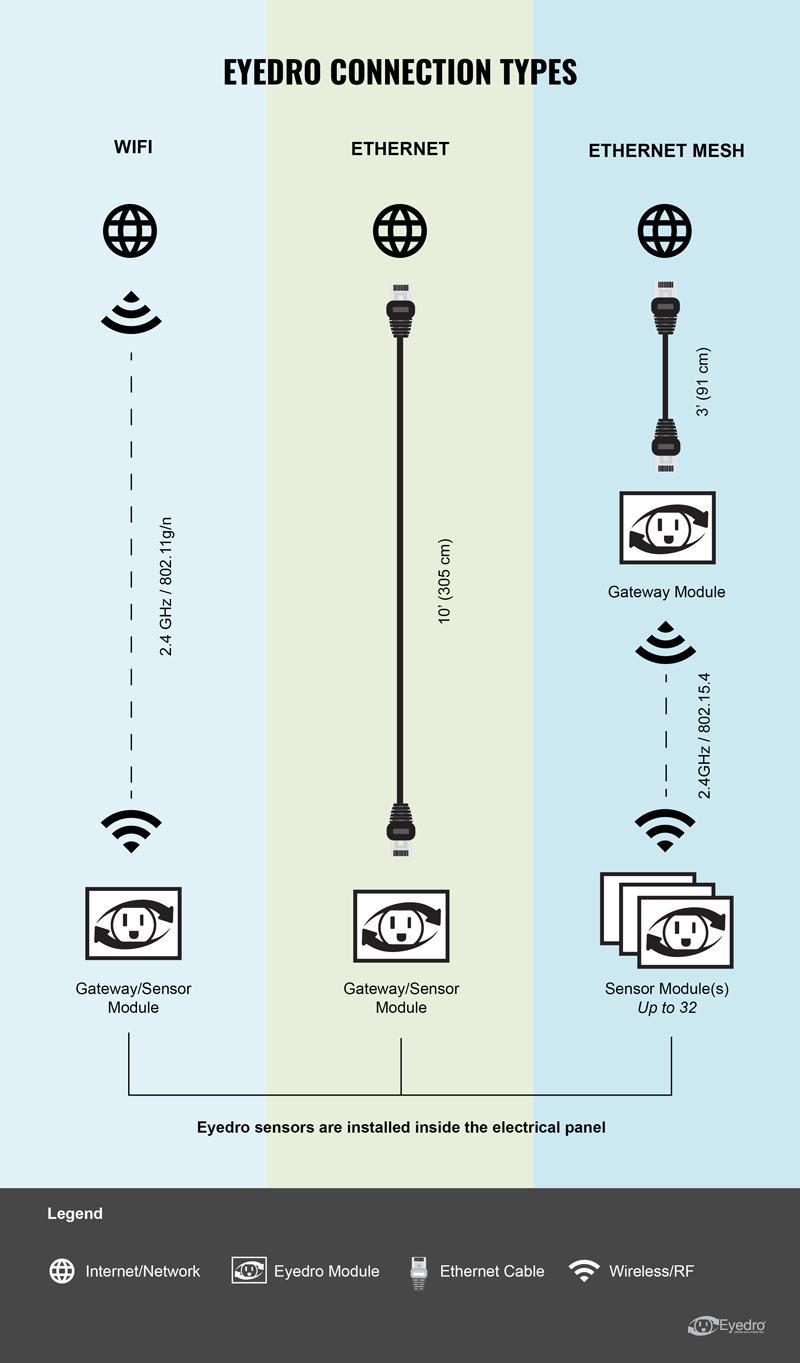 Features
See your electricity usage and costs in real-time from any web browser
Easy non-invasive installation
High resolution data. Captures appliance start-up spikes
Free monitoring via MyEyedro.com
MyEyedro features:

Responsive real-time graphs
Maintains full 24/7 usage history
Hourly, daily, weekly and monthly consumption and costs
Supports fixed, tiered, and time-of-use rate structures
Estimates what your current electrical bill will cost
Be notified of power or network failure
Specifications
Power: 100-240VAC 50/60Hz to 5VDC 0.300A wall adapter to power module (ethernet and wireless mesh devices)
Power: 120VAC 60Hz to 6VAC 500mA wall adapter to power module (WiFi connected devices) – European style t

ype C, 220V – 240V AC adapters also available

Operating Conditions: 32-122°F (0-50°C) 80% relative humidity – indoor use only
Module Dimensions: 3 x 3 x 1 in (77 x 75 x 25 mm)
Shipping Weight/Mass: approx 35 oz (1 kg)
Wireless Products Only
Wireless Range: 1000 ft (300 m) in direct line-of-sight (wireless mesh devices)
Wireless Range: 300 ft (92 m) in direct line-of-sight (WiFi devices)
Operating Frequency: 2450MHz ISM Band
200A Sensors (alternate sensor sizes available)
Sensor Rating: Maximum 200A at 300V
Sensor Dimensions: 2.75 x 2.0 x 1.5 in (70 x 50 x 38 mm)
Sensor Opening: 1 in (25 mm) – suitable for 3/0 Wire
Want to become a partner?
if you are interested in becoming a distributor or reseller or would like to bundle Eyedro products and services with your own