Our Cloud Service is Changing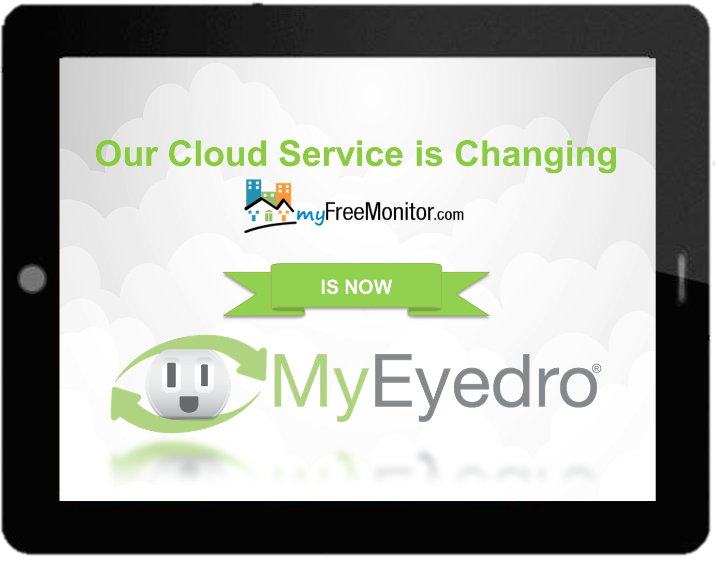 myFreeMonitor is now MyEyedro
Whether you're looking for product manuals, checking out the latest news from the Eyedro blog, or simply accessing your monitoring dashboard – we want to make it fast and easy to get what you need. So as of November 1, the myFreeMonitor monitoring service has rejoined the family of Eyedro products under its new name – MyEyedro. You may have also noticed some enhancements to our website at Eyedro.com.
Frequently Asked Questions
What is changing about my service?
We are doing everything possible to make this transition as seamless as possible, so after November 1st, when you visit the current cloud service at myFreeMonitor.com you will be automatically redirected to
MyEyedro.com
. Once there,
your login information, settings and historical electricity data will remain exactly the same.
Why are you changing the name?
As we continue to grow, it's important that our customers have the best product experience possible. When you purchase an Eyedro Real-Time Electricity Monitor with free monitoring, it's important that the monitoring service reflects the entire Eyedro experience.
Is it still FREE?
Yes! Free basic monitoring is still included with the purchase of an Eyedro Real-Time Electricity Monitor.
What do I need to do?
Nothing. Well, almost nothing. Instead of going to myFreeMonitor.com, simply visit 
MyEyedro.com
. You may also want to add MyEyedro@Eyedro.com to your safe sender list so you don't miss out on weekly reports, updates and news.
Tell Us What You Think
If you have questions, comments or a great idea about how to make Eyedro products and services even better we want to hear from you. Simply email
feedback@eyedro.com
and tell us what you think.
 Ready to Get Started? 
Thank you for your continued support.
—The Eyedro Team
Know someone who'd be interested in Eyedro? Help spread the word.