MyEyedro User Guide v5
1.1.
Account Access
The MyEyedro electricity monitoring cloud service presents your electricity data in ways that are engaging, informative, and easy to understand. When you log in to your MyEyedro account, you will be able to see real-time electricity usage and gain access to many helpful features that help you uncover waste, manage costs, and take control of your electricity use.
In order to use the MyEyedro cloud service, a MyEyedro user account is required to log in and see your data. Start your energy-saving journey by creating a MyEyedro user account.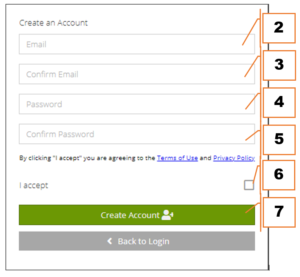 Go to https://MyEyedro.com and click on the "Create Account" link.
To create a new user account, enter a valid Email address. The email address entered here will become your MyEyedro account username.
Confirm Email address.
Enter a Password.
Confirm Password.
After, reading both Terms of Use & Privacy Policy, click to accept.
Click Create my account.
On successful completion, a welcome message will appear and you will be automatically signed in to your new user account. A welcome email will also be sent to the email address specified in the user account.
NOTE: By creating a MyEyedro user account, you are agreeing to the Terms of Use and Privacy Policy.
6
of
7
users found this section helpful