MyEyedro User Guide v5
4.4.
Device Configuration
The Devices tab is used to add and remove Devices associated with your user account, view Device status, and edit Device settings.
A Device is a physical or virtual device containing one or more sources of data (i.e. sensors). Devices can be physical devices installed in a building or virtual devices. Please see Appendix A for a list of supported devices.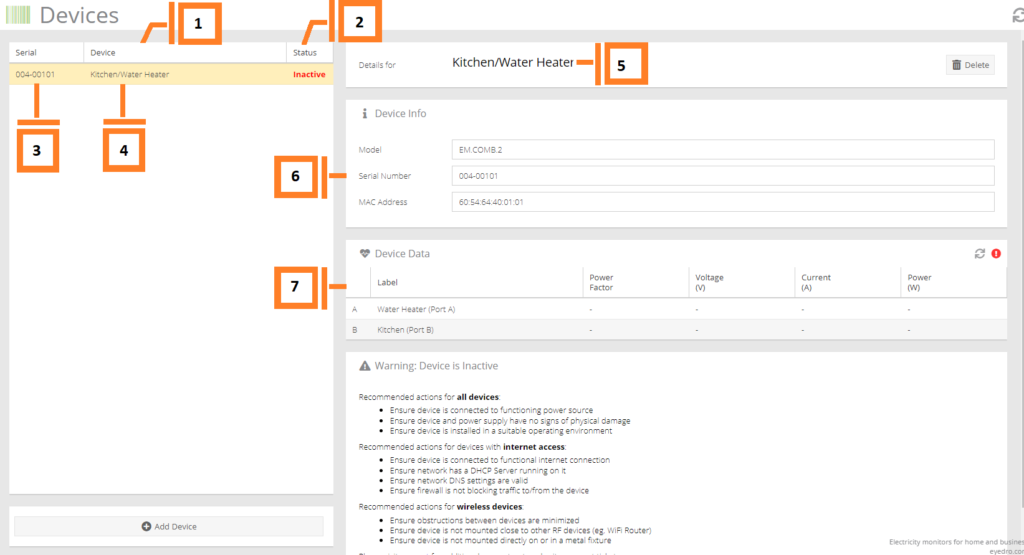 | | | |
| --- | --- | --- |
|   | Field | How It's Used |
| 1 | Device List | The list of Devices associated with your user account. |
| 2 | Device Status | Indicates Active/Inactive status of the Device. Active Devices are actively communicating with the MyEyedro servers. Inactive Devices haven't communicated for several minutes. It takes approximately 5 minutes for a Device to go from an Active to Inactive status. |
| 3 | Device Identifier | A Device's unique identifier (e.g. the serial number). |
| 4 | Device Label | A label assigned to the Device to help identify it; useful when there are multiple Devices under your user account. |
| 5 | Device Details | Displays details for the Device currently highlighted in the Device List |
| 6 | Device Info | Displays the information specific to the physical Device. |
| 7 | Device Settings Area | The settings for the currently selected Device, for more information on how each Device can be configured, please refer to Appendix A. |
1
of
1
users found this section helpful