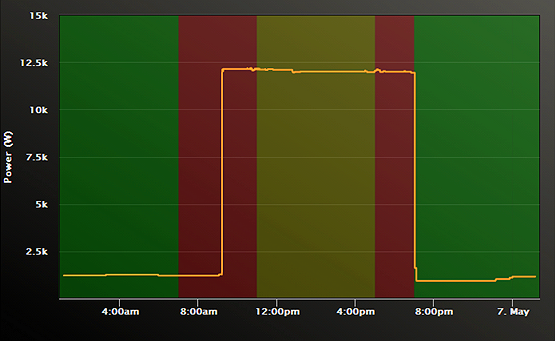 Commercial Tenant Electricity Sub-Metering: Landlord Feels That Tenant Is Using More Power than Budgeted in Lease Agreement
In this case study we illustrate how Eyedro has been put to use resolving a commercial tenant electricity sub-metering dispute between the tenant and the landlord of a large commercial building.  As can be seen from the Eyedro real-time electricity monitoring graph data above, a tenant of a commercial building displayed an excessive electricity usage pattern that persisted for 12 hour periods.  This usage was very much out of line with that of the other tenants in the building.
After some investigation it was discovered that the tenant was testing some power hungry new technology.
Via Eyedro, the  landlord was able to show the tenant their actual electricity usage as well as the time period (in this case during peak electricity rate hours).
Because the landlord was sub-metering each tenant and tracking power consumption with an Eyedro Electricity Monitoring system, they were able to pinpoint the tenant's unusual electricity consumption.  The tenant's commercial lease was then renegotiated in a way that was fair to both parties.
The landlord ultimately recovered more than $1200 in electricity costs per year from this one customer alone!