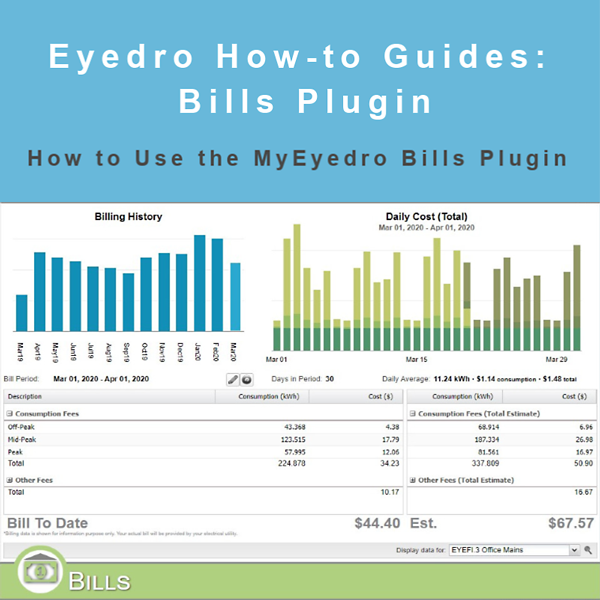 How to Use the Bills Plugin
Purpose:
This post will explain how to use the Bills plugin.
It is important to note that for the Bills plugin to work, your Rate Settings must have been set up first. You can find the How-to for that Here.
Finally, this plugin is for informational purposes only. The actual bill will be provided by your electrical utility. 
Instructions:
Click on the icon in the lower left of the My.Eyedro.com display.  This is the plugin menu.
Select Bills.
Select the Display Group you wish to view from the dropdown menu.
The Billing History graph shows the current month's usage as well as the past 11 months usage in kWh.  Hover your mouse over a month's bar to see the amount used.
The Daily Cost (Total) graph shows a daily breakdown of costs in dollars for the currently selected billing period.
Billing period start and end dates can be adjusted. Click on the pencil icon to access settings. You can refresh the graph with the button next to the pencil.
Bill To Date shows all consumption and costs for this billing period to date.
The Est. shows the estimated cost for this billing period based on historical usage data.
Click the + in both grids to see the breakdown of other fees.
For more information:
To contact Eyedro Support:
Via web: Contact Us