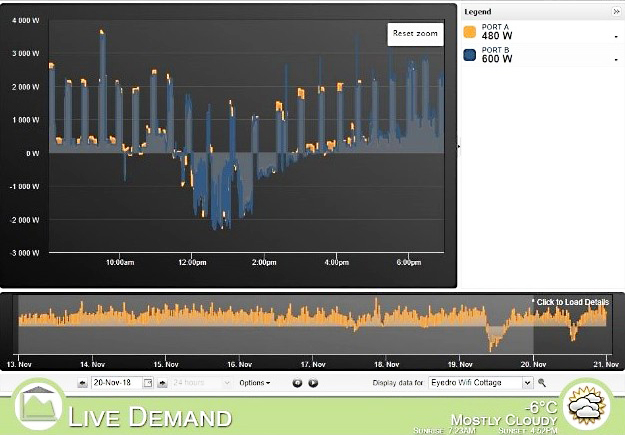 EYEFI – Electricity Monitoring for the NET ZERO Home
Power Consumed vs. Power Generated 

Real-Time Data

Configurable reports
Benefits of monitoring with Eyedro?
True Power measurement
Commercial, industrial, institutional and residential
Measure and Display PF, Voltage, Current, Power
Track Money generated with Solar panels
Get Alerts when system is off-line
Eyedro Net Metering Example:

Product Features:
Responsive web interface – (MyEyedro.com) on any modern browser
Live and Summary view – See power usage and cost streaming in real-time
Bill view – See estimate of electrical bill for current and historical billing periods for any day of the month
Sensor options – 5Amp – 3000Amp
Managed Services include:
Manage multiple systems – Add any number of devices to your account.
Manage multiple sites – Add a number of buildings to your account and assign devices to any sites.
Reports – Have configurable reports delivered directly to your inbox at configurable intervals.
Alerts – Be notified of power or network failures, if demand or consumption exceeds thresholds (above or below), and more.
Custom web interfaces – Have your company Branded on the web interfaces and custom URLs are available.
API– Integrate measurement data into your own Dashboard with our Application Programming Interface
Export – Data can be exported from any point in time into CSV for further analysis
See how easy it is to get up and running with EYEFI with this short Eyedro WiFi connection video
120V /60Hz and 230V/ 50Hz EYEFI models available – shop now!
.