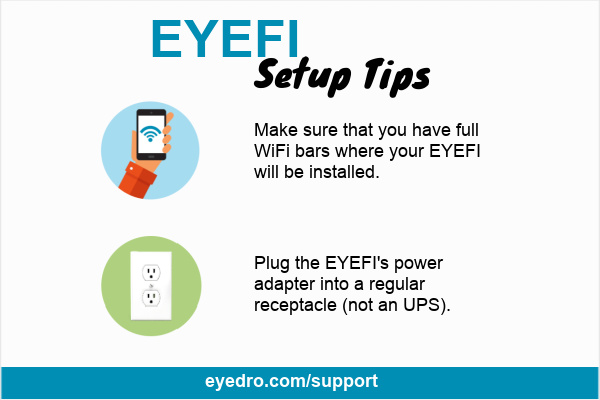 Here are a few simple tips to ensure that the installation of your new Eyedro EYEFI system is quick and easy:
To get started, bring the Eyedro module and power adapter into the room with your router and plug it in (you can move it back to your electrical panel once you have set your network credentials).
Plug the EYEFI's power adapter into a regular receptacle (not a UPS battery backup).
If you have a dual band router select the credentials for your 2.4G band when setting up your EYEFI.
When prompted for your WiFi Network name (SSID) and password enter the same information that you would give to a friend who wanted to use your network.
Once you have told the EYEFI which network to communicate over, take the module back to your electrical panel and mount it on the wall beside the panel (never inside!). 
Ensure that you have full WiFi bars at the spot where your EYEFI is installed.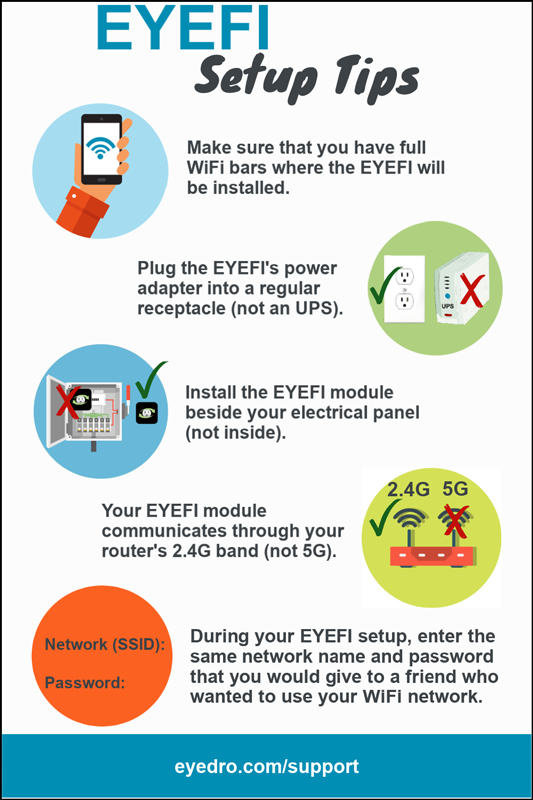 Energy Monitoring Made Easy
EYEFI Setup via Desktop or Mobile
For more information about connecting your EYEFI system via desktop:
For more information about connecting your EYEFI system via mobile:
More Technical Information
Manuals, videos, FAQs and troubleshooting: