MyEyedro User Guide v4
8.1.
Highlights-v4
The Highlights plugin displays convenient at-a-glance summaries of electrical consumption and estimated costs for all sensors of a specified Display Group.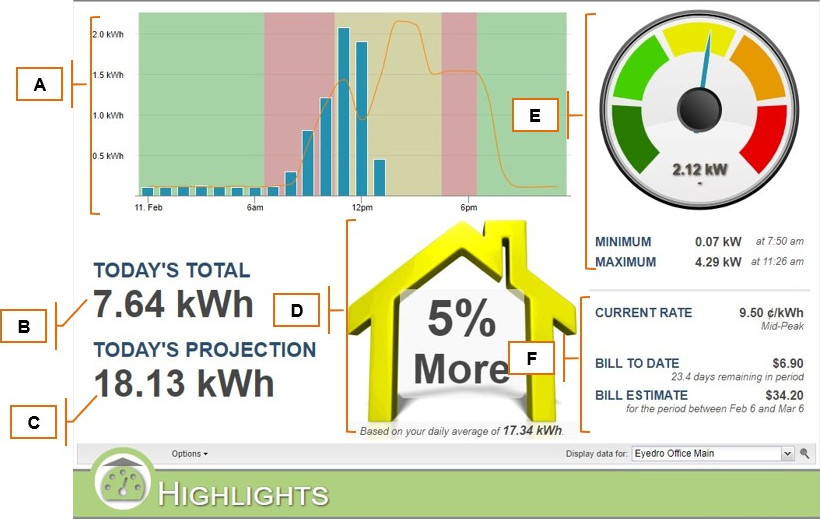 Field
How It's Used

A

Hourly Graph
The hourly cost/consumption for all sensors. Hovering your mouse over the orange line shows you the daily average.

B

Today's Total
The total cost/consumption of your electricity for today.

C

Today's Projection
The projected cost/consumption of your electricity for today.

D

Average Demand Summary
How your data from today compares to your daily average. The daily average is based on a 4-week running average of the current weekday.

E

Current Demand Summary
The total electrical demand at the current time, the most recent change in value, and the minimum or maximum electricity demand measured since midnight.

NOTE: If displaying data as cost, the demand is multiplied by the current billing rate to determine instantaneous cost.

F

Billing Summary
Displays billing summary data, including:

Current Rate: the current price you are being charged per kilowatt hour (kWh), based on currently active Rate Structure.
Bill to Date: estimated total electricity cost to date.
Bill Estimate: estimated total electricity cost.
0
of
0
users found this section helpful