MyEyedro User Guide v4
5.3.4.
Sharing a Display Group-v4
#

Sharing allows users to share data from their user accounts, in a read-only manner. Below are common examples of where sharing can be useful:
Multiple users want to view data for a household (i.e. family members)
Property managers want to share data with tenants
Franchise owners want to share data with corporate headquarters
Users want to set up a friendly competition
Typically, the Direct Share method is used when you are sharing data with an existing MyEyedro user or want to create a new user account.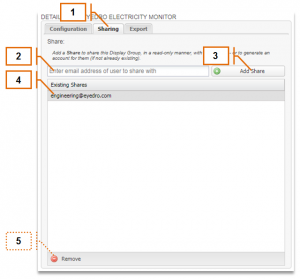 After highlighting the Display Group you want to share in the Display Group List, click the Sharing tab in the Display Group Details Area.
Enter the email address of the MyEyedro user account you wish to share with.
Click the "Add Share" button to share the Display Group.
Upon successful completion, the email address will appear in your list of Existing Shares. Sharing with a non-existent user account will create one—a welcome email with a temporary password will be sent to the email address entered.
If required, you can remove the Display Group share by select the email address from the Existing Shares List and clicking the "Remove" button.

Was this helpful?
Yes
No

Suggest edit
Last updated on 16-May-2022
0
of
0
users found this section helpful