MyEyedro User Guide v4
4.3.
Survey Tab-v4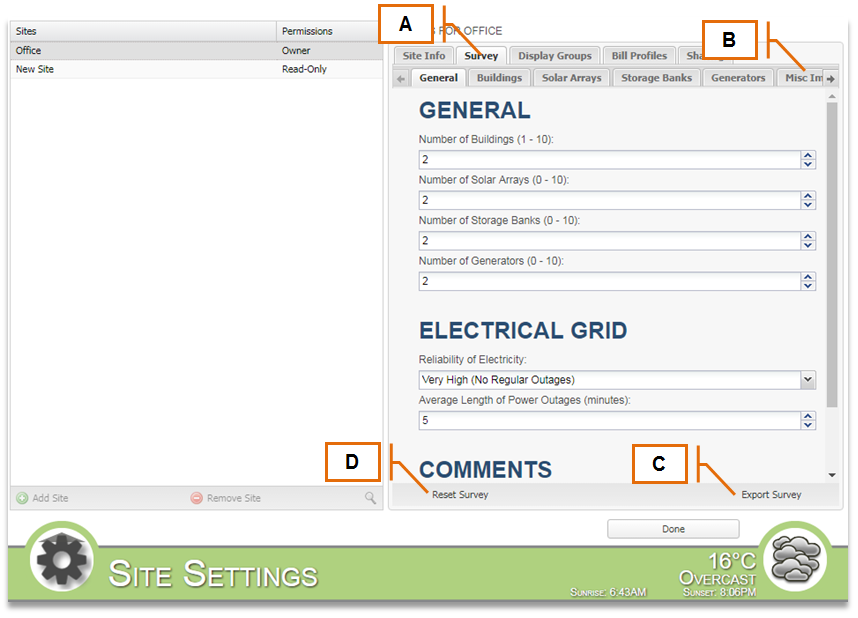 Field
How It's Used

A

Survey Tab
Click on the Survey tab to access, edit, and add information gathered during a Site survey. Users can store the following kinds of information on MyEyedro:

General: number of buildings/electrical grid information, miscellaneous comments, and images
Buildings: building name, type, age
Solar Arrays: array name, role, number of panels, power rating, surface area
Storage Banks: bank name, role, capacity, storage type, voltage
Generators: generator name, role, capacity, model, fuel type

B

Misc. Images
Images of Sites (must be 400×400 pixels) can be uploaded for reference and to more easily identify multiple Sites. Images uploaded here will also be visible in the General tab.

C

Export Survey
A completed building survey can be exported as a CSV (Comma-Separated Values) file.

D

Reset Survey
If required, the entire Site survey can be reset and all currently saved data will be deleted.
0
of
0
users found this section helpful